The therapist you can trust in Hampton Roads. "Virginia Beach Best Hypnotherapist Award" winner.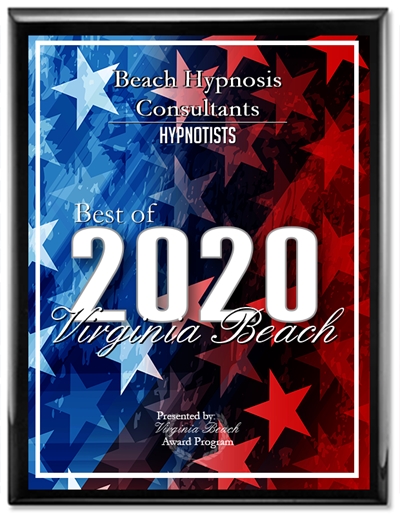 "I  volunteer at the homeless shelters, animal shelters (SPCA and PETA), suicide hotline, beach and bay clean up.
I am an experienced and professional hypnotherapist working in the Hampton Roads area since 1990 with a great reputation and a 99% success rate. 
I specialize in Weight Loss, Smoking Cessation, Addictions, Fear, Anxiety, Trichotillomania, Children, Teenagers, Relationship issues, Sexual performance issues, LGB Identity acceptance and more. Please visit the 'services' page for a list of services.
I am trusted and have had clients referred by Doctors, Dentists, Psychologists, Psychiatrists, Pharmacists, and most importantly, clients that I have helped improve their lives.
I get great pleasure in helping people achieve their goals and live a happier and healthier life. I love coaching people to lose weight, quit smoking, and rid themselves of unwanted habits. It gives me great satisfaction to see people become happier, build their confidence, and succeed in their business and personal life. My greatest joys are making a difference in people's lives and helping animals."
Why should you choose ME to help you?
"Because I have excellent reviews from all my clients, offer a friendly and professional service and have a 99% success record."
HYPNOTHERAPY CREDENTIALS:
Founder and the Owner of Beach Hypnosis
Licensed by the Commonwealth of Virginia in Hypnotherapy
Certified Hypnotherapist by the Genesis School of Hypnosis
BUSINESS MANAGEMENT RELATED:
Dale Carnegie and the Joe Verde Management and Leadership Certified
Masters degree in Business Management from SUNY Plattsburgh
Business Consultant Specializing in Personnel Development,
Problem Solving, Leadership, and Self-Improvement
District Manager for large national retail companies
General Operations Manager for large corporations
Published Author (non-fiction)
HUMANITY…
"In 2008, a 23-year-old journalism student, Sayed Pervez Kambaksh, was sentenced to death by an Islamic court in Afghanistan. His crime was downloading a report on women's rights from the Internet and passing this report around to his friends. I got involved for the fight for Sayed's freedom by starting a petition in the United States to set him free. After collecting millions of signatures and contacting the officials in Afghanistan his life was spared.
In 2009, I also helped a wrongly convicted young woman for killing her husband in self defense. She was sentenced for life and served 11 years as a result of poor defense. I helped raise awareness by starting a petition resulting in her being freed."
Why is Beach Hypnosis so Successful?
Major medical institutions in the United States such as Harvard, Colombia, Mt. Sinai and Cleveland Clinic recognize the power of hypnotherapy in losing weight, stopping smoking, insomnia and more.
However, don't trust just anyone with your subconscious mind just because they are cheap! 
Would you trust a hypnotherapist who smokes to help you quit smoking?
Would you trust an overweight hypnotherapist to help you lose weight?
Reputation, reliability, years of experience, success rates, testimonials from satisfied clients and trust is important in seeking professional help, as is the case with Virginia Beach Hypnosis.
You can TRY reaching your destination in the back of a truck, or REACH your destination flying first class.
There are documents called ' scripts' that hypnotherapists use on their clients. A script is a group of sentences in specific structure to convey a specific message to the subconscious of a client. If a client is open and receptive, it will penetrate into the subconscious mind.
Most of these scripts are pre-written by other hypnotherapists with the intention of financial gain. Most of them can be up to 50 years old, outdated and written somewhere in New Zealand or Australia with their version of the English language. Then new hypnotherapists who don't have much experience, purchase these scripts and use the same ones on every client. It's like giving Tylenol to every client who has a headache.
Beach Hypnosis treats every client with extreme care and attention… Prior to the appointment with Beach Hypnosis, information about the client and the issue is collected by having the client fill out an application. Then Beach Hypnosis does an extensive research for the most updated treatment about the issue that was described in the application. The next step is preparation of the most effective therapy by combining experience, knowledge, ability and a personal touch. Then all levels and steps of the therapy are carefully prepared and the client has his/her own specially customized therapy ready.
Regardless of the nature of the issue, every client is treated with professional and friendly service and respect at Virginia Beach Hypnosis. Therefore Virginia Beach Hypnosis has the highest success rate and the best reputation. The amount of testimonials from real clients are clear proof of Beach Hypnosis' success and why so many people trust and refer Beach Hypnosis to their friends.
 In Memory of Terry Richmond…
I have been trained by one the best hypnotherapy instructors in the world; Terry Richmond. My instructor, mentor and beloved friend Terry passed away in 2009. She will always be remembered and continues to live in our hearts.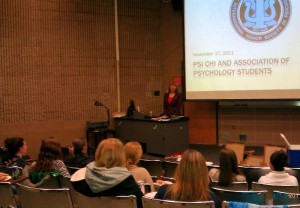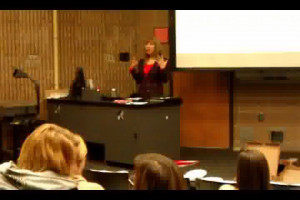 Megan giving a speech to Old Dominion University Psychology students. She is often invited to give speeches in Universities about hypnotherapy. Based on her great reputation and success record, Medical Doctors, Dentists and Psychologists refer their patients to Megan.
Hypnotherapy really works, it changes your life by changing your mind!
5,306 total views, 2 views today